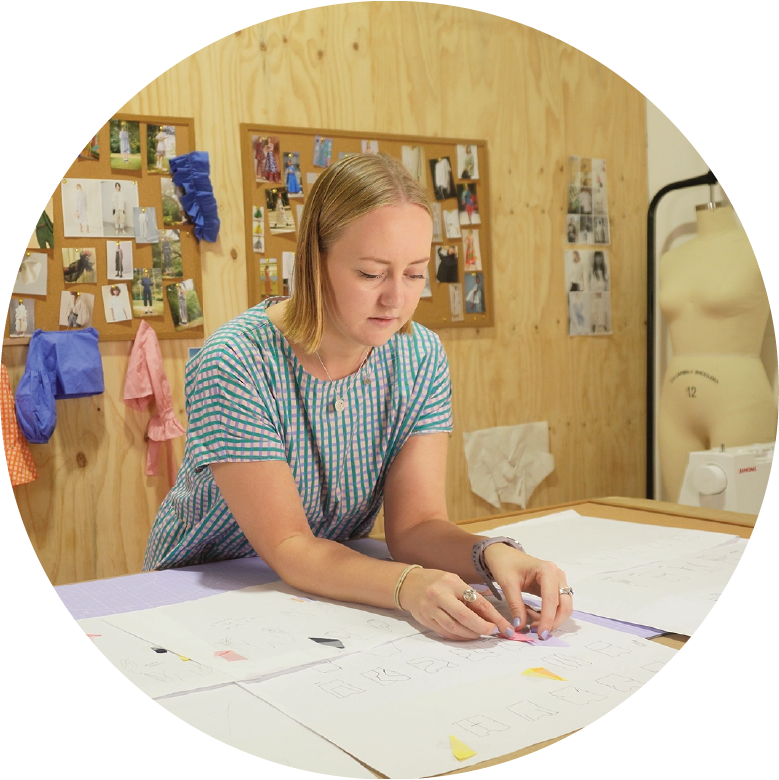 ---
Hi. I'm Alys! I'm a pattern maker, and I've worked for brands such as Alexander McQueen, steventai, Paper London and Teija. I aim to teach pattern making in a fun and easy way to give you the freedom to design your own clothes exactly how you want.
I hold a Bachelor of Arts in Fashion Design from Nottingham Trent University - renowned for giving its students a strong skill base. My love for pattern making developed here, combining my enjoyment of experimenting and problem-solving with art, sewing and creativity. I love teaching and bouncing ideas around with others to turn a design and a concept inside your head into something real!
I've been teaching students in person for the past four years, so I design my online courses to be as hands-on as real-life workshops, yet with the flexibility to work in your own time.
---
The story of Unpicked studio
The rumblings of Unpicked studio started in March 2020, and we launched our first workshops in September 2020, located in our Sydney studio. At first, I started the studio to share my pattern-making skills, but I didn't realise that we'd create such a beautiful community (and how much I needed that, moving across the world in a pandemic!). Connecting people to learn and experiment together has been so amazing.
Our events have become a space to come and enjoy time sewing together, where we geek out about all the little things. I don't know about you, but not all our friends are that interested in the latest patterns, types of thread or how to construct a specific pocket!
In January 2023, we launched our online courses to demystify pattern making, making it fun and easy to learn, and build an online community so we can cheer each other on! We believe everyone should be able to wear the clothes they love and have fun making them!

We'd love for you to join our community..