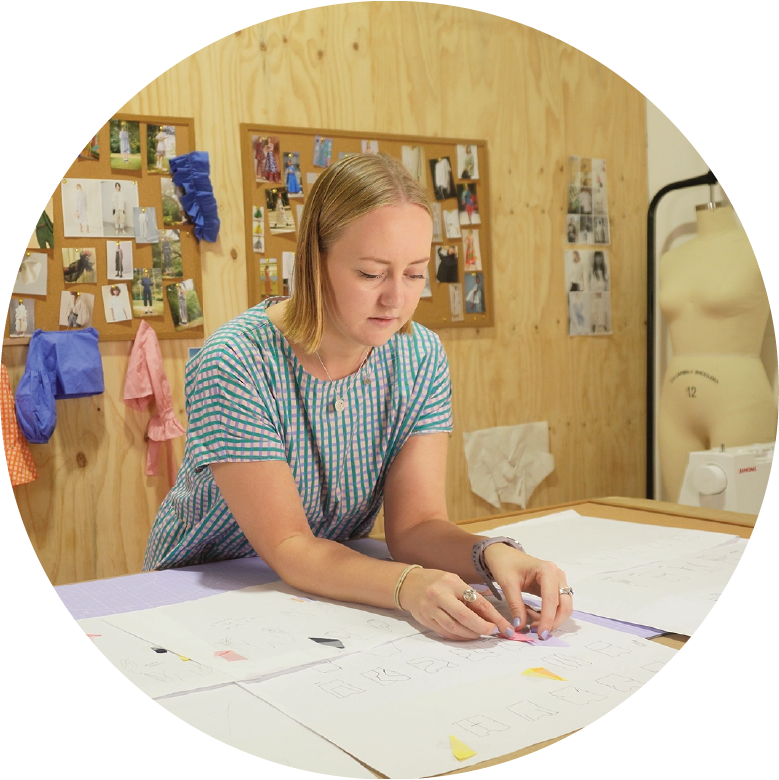 Hi! I'm Alys, a pattern maker who's worked for brands like Alexander McQueen, steventai and Teija.
But I don't think designing clothes should be something only the experts and fashion houses can do – which is why I started Unpicked Studio where I aim to teach pattern making in a fun and easy way to give you the freedom to design your own clothes exactly how you want.
I hold a Bachelor of Arts in Fashion Design from Nottingham Trent University - renowned for giving its students a strong skill base. My love for pattern making developed here, combining my enjoyment of experimenting and problem-solving with art, sewing and creativity.
I've been teaching students in person for the past four years, so I design my online courses to be as hands-on as real-life workshops, yet with the flexibility to work in your own time.
There's nothing better than the buzz of bringing an idea to life, getting lost in the making and feeling so proud of the finished garment.
Getting lost in the process of creating helped me through some of the toughest times in my life and I believe even a little time spent making can turn your day around.
The story of Unpicked studio
The rumblings of Unpicked studio started in March 2020, and the first workshops launched in September 2020, located in the Sydney studio. At first, I started the studio to share my pattern-making skills, but what I didn't realise is that we'd create such a beautiful community and how much we all needed it. (especially myself as I moved across the world in a pandemic!). It's so important to connect people to learn and experiment together, and it has been so amazing watching this grow.
In January 2023, our first online courses went live with the key mission at heart - to demystify pattern making - making it fun and easy to learn so people can create a wardrobe they feel good in.
I've since launched Instant Access courses, so you can design every detail - with focused |classes that are full of all the skills you need to start your pattern making journey today!
Providing the perfect balance of equiping you with the knowledge you need and encouraging you to play and experiment for yourself! The key ingredients needed to being a great pattern maker. I believe everyone should be able to wear the clothes they love and have fun making them!

Come say hi and join our community..